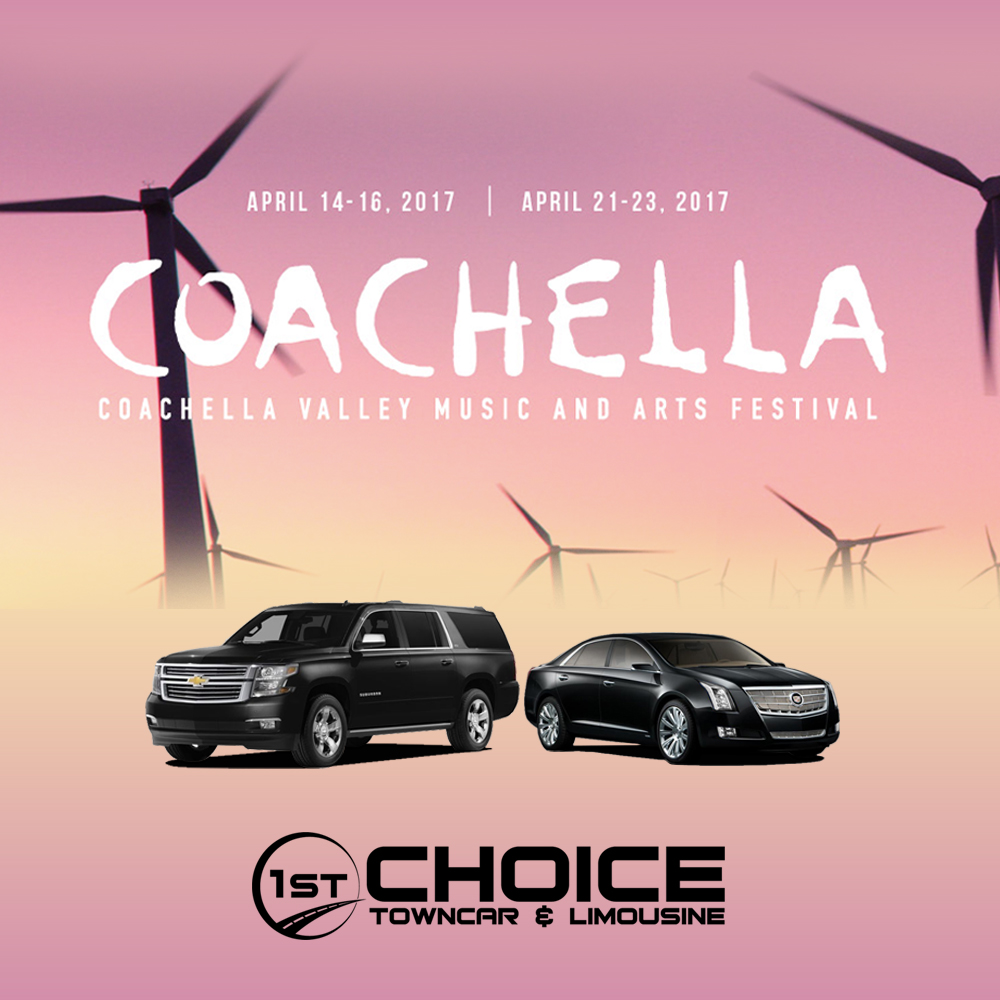 Are you ready to soak up the desert sun and some great live music? The Coachella festival is upon us and fans of live music, and art get very excited making their yearly pilgrimage to this oasis of fun to enjoy the outdoors and the music with friends and other likeminded fans.
Getting to this amazing festival is something every ticket holder thinks about, and at 1st Choice Towncar we have taken the worrying out of that one task. Our chauffeured vehicles have transported many fans and friends to this beloved destination and are ready to do so once again.
About the event: The Coachella Valley Music and Arts Festival (aka Coachella) is the yearly gathering of great music and art exhibits, held at the Empire Polo Club in Indio, California, in the Inland Empire's Coachella Valley.
Co-founded by Paul Tollett and Rick Van Santen, in 1999, it connected artists in music with fans, and it grew from there. Indie rock, hip hop, electronic dance music, reggae, classic, alternative rock, and other genres, all find a place and a spot to perform at this unique venue. Fans experience the music while checking out one-of-a-kind art installations and sculptures, on display, in the festival grounds.
There are multiple stages where live music is performed by major acts, all at the same time. The main stages at Coachella festival are: The Coachella Stage, Gobi Tent, Mojave Tent, Outdoor Theatre, and Sahara Tent.
The festival was born as a result of a rebellious, different-thinking approach, by the band Pearl Jam, in 1993, as the band took their live concert to the Empire Polo Club, boycotting venues controlled by Ticketmaster, and finding a place they can perform on their own.  This new, out-of-the-box location showed promise and seemed suitable for holding a large number of attendees in an open-space setting. You can say that Pearl Jam gave birth to Coachella Music Festival.
Today, this world famous affair, welcomes thousands of guests from all over the globe. Nowadays, the event takes place in two weekends, three days each, featuring a wide variety of popular and emerging musicians. The 2017 Coachella lineup includes: The XX, Radiohead, Lady Gaga, Kendrick Lamar, The Head and the Heart, Phantogram, DJ Shadow, Glass Animals, Gucci Mane, Little Dragon, Porter Robinson, Mac, De Marco, Lorde, Justice, New Order, Two Door Cinema Club, Marshmello, Hans Zimmer, DJ Khaled, Lil Uzi Vert, Jai Wolf, just to name a few, from a long list of stars.
So, how do you get there without driving, you ask?
1st Choice Towncar (see our fleet of cars) is the answer to getting yourself and accompanying friends to and from this festival.
The 2016 festival grossed over $94 million. That's almost 200,000 tickets. This gives you an idea about the scope of this yearly occurrence. Therefore, hurry and reserve your chauffeured vehicle now, with 1st Choice Towncar.
Contact our friendly experts at 1st Choice Towncar for details and we will get you there in one of our comfy, cozy vehicles. Sit back, and relax as our skilled chauffeurs deliver you to this fantastic venue safely and comfortably.
Click here to book your ride now.