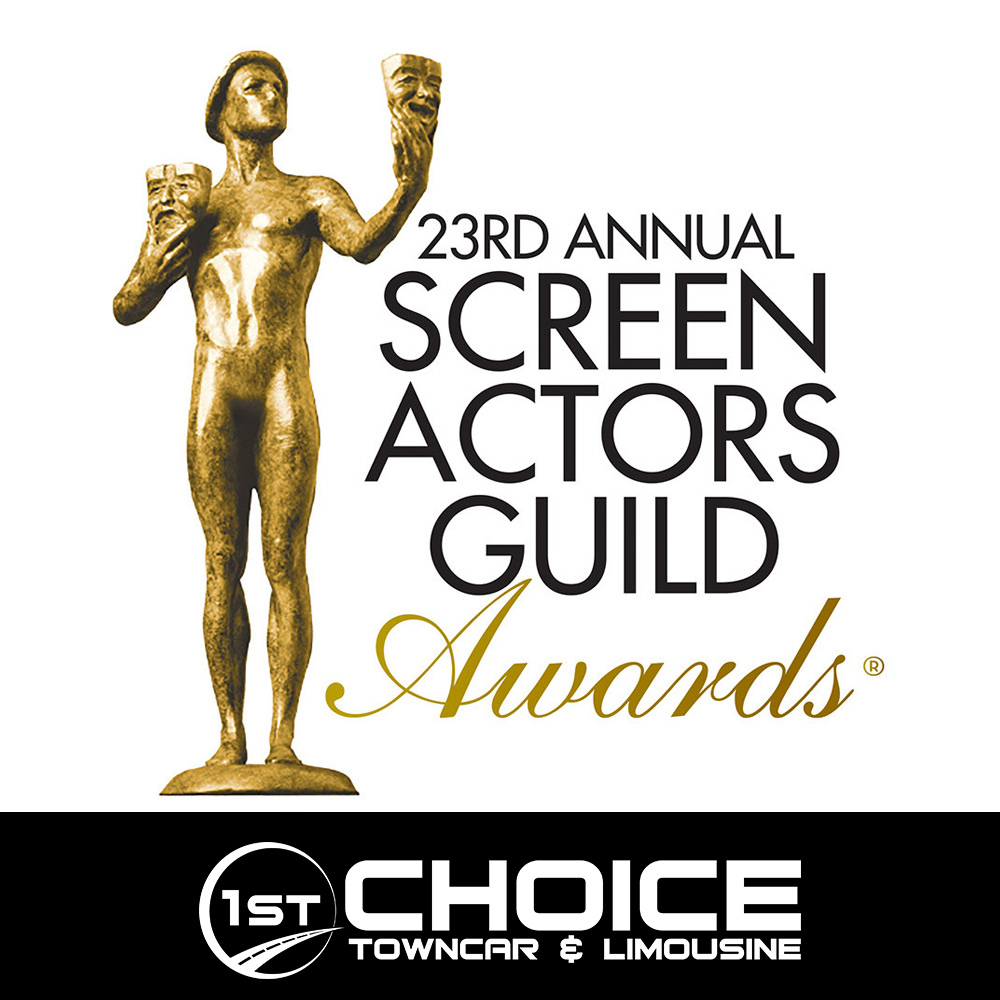 The month of January brings its own list of Hollywood parties and award extravaganza to note, especially if you live in Los Angeles. This city is decked out and ready to hand out trophies to the bet of the best, and as the end of the month approaches, The Screen Actors Guild Awards (aka: SAG Awards) are the center of the universe for actors and actresses, their publicists and managers.  They have all worked every hard trying to get that challenging role and nailing the performance, and now they want their recognition.
Our chauffeured car service company, 1st Choice Town Car has played its role providing transportation to the SAG Awards, for Hollywood film and TV professionals. This year we look forward to do it once again during SAG Awards 2017.
SAG-AFTRA represents more than 160,000 actors, announcers, broadcaster journalists, dancers, DJs, news writers, news editors, program hosts, puppeteers, recording artists, singers, stunt performers, voiceover artists and other professionals. SAG-AFTRA members are the faces and voices that entertain and inform America and the world. SAG-AFTRA members work together to secure the strongest protections for media artists into the 21st century and beyond.
Famous for its style, on the red carpet and inside the venue, and a warm and welcoming atmosphere for the nominees and guests, the Screen Actors Guild Awards presented by SAG-AFTRA, made its debut in 1995, and it is now the most prized honor for an actor, an actress or a team of actors (an ensemble). SAG Awards is the only televised show exclusively honoring performers. Each year SAG presents thirteen awards for acting in film and television in a fast moving two hour show which airs live on TNT and TBS. The performances recognized can be in drama series or comedy series, and the cast of a motion picture. The show and the organization help others realize what all actors know – that acting is a collaborative art.
Speaking of collaboration, this is the time to think about 1st Choice Town Car, a dependable, road savvy, car service company, with its professionally chauffeured vehicles who have had the experience of working during the Awards Season, and know all the popular award venues, in addition to hotels, after-party hot spots and more.
Our professionally trained, courteous staff, both behind the wheel and at our customer care and reservation center are committed to giving the best service, helping you reserve the appropriate vehicle (see our fleet) for the event you have in mind.
This year, Jane Fonda and Dolly Parton will present their friend (and 9 to 5 movie co-star) Lily Tomlin with SAG's Life Achievement Award. Will you get there in time to witness this once-in-a-lifetime moment? We can help you get there, if you call or go online to reserve your chauffeured ride today. Be a part of the magnificent SAG Awards 2017 event. Enjoy the festivities without the stress of dealing with the heavy traffic. Sit back, relax and let us get you there on time and with comfort and safety.