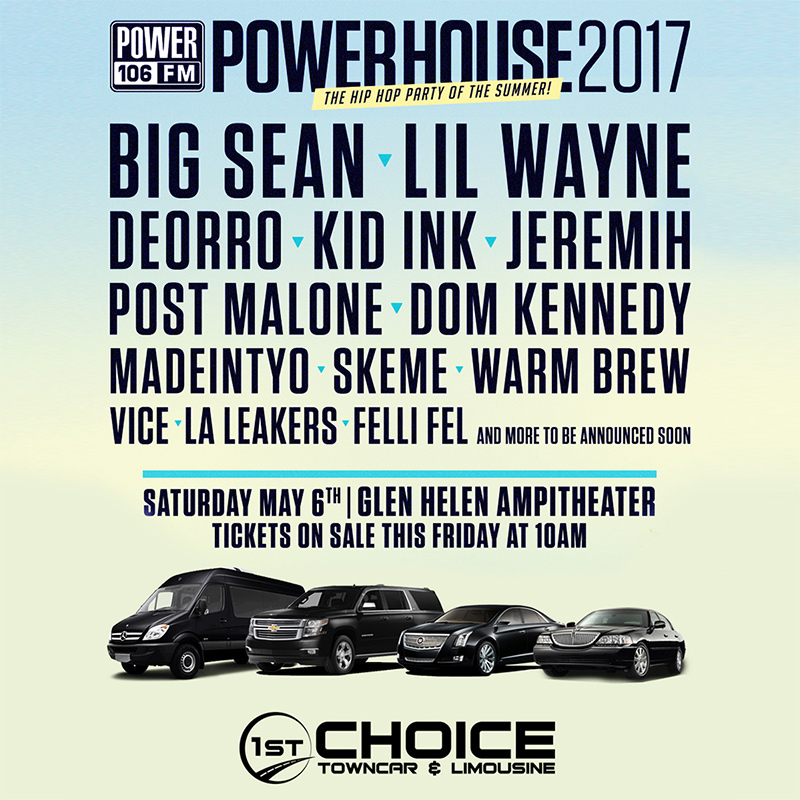 As outdoor summer festivities under the beautiful Southern California sun reveal themselves, many music festivals such as Power 106 FM's Powerhouse 2017 get music and art fans excited about their latest offerings.
This year the lineup of talent gracing the stage is a big deal to the fans of hip hop and rap.
Otherwise called "the Hip Hop party of the summer," Powerhouse 2017 brings fans and artists together for a day of music, art, sports, food, and a bit of drinking, all in one place.
Power 106 FM, presents its POWERHOUSE 2017 at the San Manuel Amphitheater (formerly Glen Helen Amphitheater) on Saturday, May 6th, 2017, from 12noon-10pm.
Headliners are Big Sean, Lil Wayne, while other celebrated stars such as: Post Malone, Dom Kennedy, Madein TYO, Warm Brew and Skeme, rock the mic.
Popular Djs, DEORRO, L.A. Leakers, DJ Vice and DJ Felli Fel also take the stage in various spots to keep the music going.
The Bud Light Who's Next Festival Stage, a popular spot at the festival will present Ugly God, Dice Soho, Scoop Deville, AD, Priceless Da Roc, Flip Major, Harry Mack, to name a few.
Here's where reserving a chauffeured vehicle at 1st Choice Town Car will be a decision you will not regret.
Did you know that VIP Parking at the San Manuel Amphitheater venue is on a first come first served basis, and that there is no tailgating allowed? Those are just a few of cautionary items, other than the unpredictable flow of traffic that you will avoid by booking a car with 1st Choice Town Car. Our chauffeurs are highly qualified drivers, and masters of the road. You can sit back and enjoy the ride and not worry about the drive home, especially if you are planning on drinking while at the concert festival.
Power 106's Powerhouse 2017, gets quit busy and our road-savvy chauffeurs are truly a great choice to put the worry of driving to the amphitheater by yourself and then worry about parking, safety and then the drive back.
In addition to seeing more than a few big players in the Rap and Hip Hop scene, there are many other things to experience as one hits the festival grounds, at this year's Powerhouse 2017.
BMX bikers will show off their latest mastery.
There will be a Ferris wheel giving you a birds-eye-view of the grounds, along with a hot rod automobile display, many graffiti artists, creating art, right there, in front of your eyes and later selling them to bidders in an auction.
Of course no real party is without a variety of food (via food trucks) and Budweiser's Beer garden ready to serve you refreshing cold beer to help you cool off.
Power 106 FM has made this annual music extravaganza a popular So-Cal event and here at 1st Choice Town Car we have been happy to deliver many guests as they leave the driving to us and concentrate on celebrating the day and soaking up the sun with fellow fans and partiers.
Reserve your chauffeured vehicle to Powerhouse 2017 at 1st Choice Town Car today. Let our skilled, courteous staff answer your questions, and help reserve your ride, to and from this exciting event.