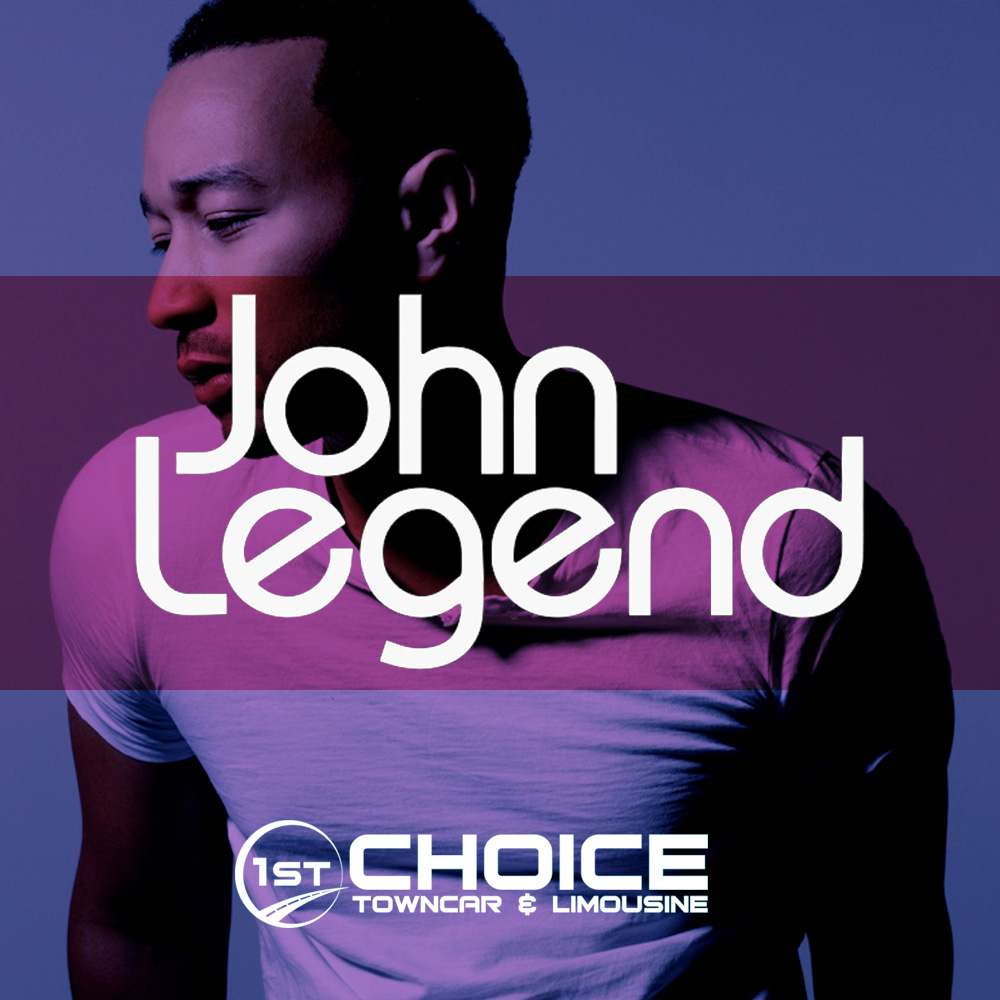 Good music nourishes and revitalizes the soul. And when a real musician, real talent hits the road to bring some of his or her beautiful music to the masses, fans respond by flocking to the concert venue in large numbers, to experience it all in person. Singer, song writer John Legend is a superstar of such raw talent, and when he announces a tour, fans respond enthusiastically.
John Legend has been thrilling audiences with his signature style and silky voice, for close to two decades. And Angelenoes can see him perform some of his best hits, two nights in a row, on May 28, and May 29, here at the Greek Theater, in Hollywood Hills. Yes, his Darkness and Light World Tour 2017 makes a two-night stop in the city of angels.
Here at 1st Choice Town Car we are equally excited when a superstar comes to town for a concert. Our phones start ringing as concert goers call in to book a chauffeured vehicle to the event and leave the hassle of driving to the destination to our skilled staff. Take a look at our chauffeured services and let us help reserve a car for any of the two concert nights.
If you are thinking about getting to The Greek Theater safely, without the worry of the usual L.A. traffic and concentrate on enjoying the evening instead of worrying about the difficulties of parking, being on time and calculating the easiest, problem-free route, just make sure to contact us and let one of our road-savvy, friendly chauffeurs get you to this amazing event.
This past year, Mr. Legend starred as a modern jazz musician in Damien Chazelle's runaway musical film La La Land, helmed by Ryan Gosling and Emma Stone, flexing his acting muscles.
Keeping with his tradition as a philanthropist and a celebrity who gives back, Legend will also join a group of music superstars such as Bon Iver, Björk and the Foo Fighters, to creating 7 Inches, a music project aimed at helping Planned Parenthood organization. The initiative will bring these artists to create 7″ records, which will then donate the profits from the endeavor to Planned Parenthood, as it faces defunding under the new Trump presidency.
In 2016, Legend co-signed a letter to the United Nations Secretary-General Ban Ki-Moon calling for a more humane drug policy, along with people such as Richard Branson, Jane Fonda and George Shultz.
Legend also donated $500,000 to Springfield City School District to renovate an auditorium, which is named in his honor. He performed at the newly designed John Legend Theater on October 9, 2016.
1st Choice Town car will be happy to help you book one of our clean and beautiful vehicles, chauffeured by some of L.A.'s best drivers as you enjoy the evening at the concert and arrive to and from the destination without worrying about anything other than soaking up the music with friends and fellow fans of John Legend.
Make sure to call and reserve early, and let our courteous staff answer your questions. CLICK HERE for Online reservation.