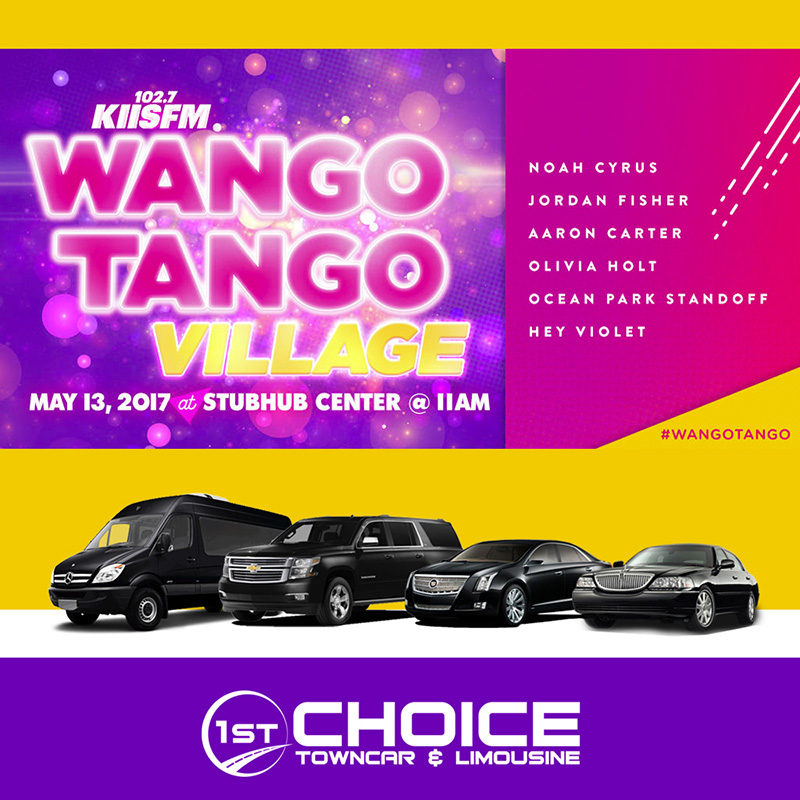 Summer's hottest concert series, Wango Tango, is kicking off right here in Los Angeles.  The concert will be held on Saturday, May 13th, 2017 at The Stub Hub Center.  The lineup to this great event includes Katy Perry, Maroon 5, Niall Horan, Machine Gun Kelly, Camila Cabello, Luis Fonsi, Zedd, Alessia Cara, Hailee Steinfeld, Miley Cyrus, and many others.  This is one event you wouldn't want to miss and would want to get full advantage of all the different activities taking place thru out the day at the Village and the main show.  The Village will be open from 10 a.m. – 3 p.m. on May 14th and it is totally free to public.  The lineup for the village includes Daya, Shawn Hook, Laura Marano, Jack & Jack and Melanie Martinez.  Therefore, our suggestion would be take a car service to the event in order to avoid the time looking for parking, that spreads out to 6 city blocks, but instead enjoying all the festivities.  1st Choice Town Car's reliable and knowledgeable drivers will drop you off at the designate drop off areas and pick you up at an agreed upon location.  Click here to make a reservation and have one less thing to worry about that day.  To avoid further delays please follow the instructions below that were drawn out by the event's organizers.
Make sure that your bags (measuring no larger than 14"x14"x6") do not contain any of the following:
• Weapons of any kind, explosives, pepper spray, tear gas, toy/replica etc.
• Fireworks, smoke bombs.
• Aerosol cans or pressurized containers
• Professional camera equipment, video cameras, tripods, monopods, battery packs, Camera lenses longer than 3"
• Noisemakers, whistles, air horns, plastic horns, musical instruments
• Coolers and thermoses
• Glass or metal bottles/cans
• Food and beverage
• Sticks, selfie sticks, poles, rods, drum sticks
• Laser pointers
• Beach balls, frisbees, balloons
• Remote controlled devices/aircraft or drones
• Hover boards, roller blades/skates
• Flags / Banners /Signs larger than 3′ x 4′
• Confetti or streamers
• Umbrellas
• Animals (except service animals)
• Any other items deemed to be inappropriate or dangerous by Management
We wish all a wonderful time at the event and as summer is opening doors to many other don't forget to book us for all your car service needs!!!